Bass-Guitar-Music.com
Amplifiers for Bass Guitars
Amplifiers for the bass guitar are different from those for other instruments. This is due to the challenge of clearly reproducing low-frequency sounds. The amplifiers, pre-amplifiers, loudspeakers, and cabinet are all designed differently for use with the bass guitar.
Bass guitar speaker cabinets generally use larger loudspeakers than the cabinets for other instruments because larger amounts of air are needed to move the lower-frequency sounds produced by the bass guitar. Also, these speakers are more heavy-duty due to the high levels of sound pressure needed to make the bass guitar as loud as other instruments. Bass amplifiers use a lot of electrical power, and the larger models frequently have cooling fans.
Combo amplifiers contain an amplifier and a speaker in a single cabinet. These are well-suited for practice sessions, performances in small clubs, and recording sessions. A combo amplifier usually has a moderate amount of power, ranging from 50 to 200 watts. Many bass guitarists who just started performing use combo amplifiers, as they are relatively easy to transport and provide sufficient volume and amplification.
For beginners, a smaller amplifier is usually sufficient. An amplifier in the range of 15 to 20 watts is fine, but anything lower than that will probably not reproduce the lowest sounds very well.
Bass guitarists who play at large concert venues, night clubs, and outdoor stages will probably want a powerful amplifier in the range of 300 to 1,000 watts with separate speaker cabinets. A word of caution, though: amplifiers in this range are extremely powerful and should never be used in small enclosed areas, especially for an extended period of time. Even one band practice with amplifiers this powerful could cause hearing damage!
Many of the leading guitar manufacturers also produce amplifiers. Fender, Peavey, and Yamaha all make amplifiers as well as bass guitars.
Recommended Amplifiers for Bass Guitars
The Behringer BX108 Bass Practice Amp provides good sound quality and power. It features a 15-Watt RMS bass practice combo with bass reflex cabinet, custom-made 8" speakers, and has a retro design with burgundy top panel, black covering and leather handle. The 3-band EQ produces good sound quality. This amplifier also has level control and stereo tape I/O plus phones out. Click here to buy the Behringer BX108 Bass Practice Amp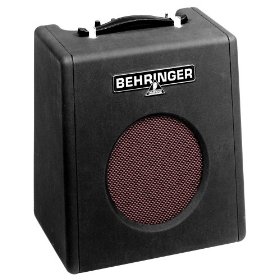 Peavey MAX 158 Bass Combo Amplifier 15 Watts, 1x8in Speaker - A practice bass amp with big-time tone. While most practice amps sound like practice amps, the Peavey MAX 158 has exceptional sound. Thanks to TransTube emulation circuitry, it has a sweet tone that makes practicing or warming-up backstage a pleasure. A voicing switch gives you modern or vintage drive. It features 3-band EQ and 15 watts of power. Click here to buy the Peavey MAX 158 Bass Combo Amplifier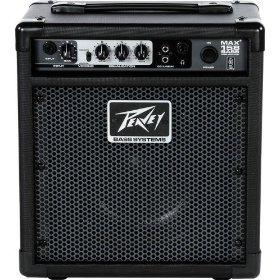 Peavey MAX 110 Bass Combo Amplifier 20 Watts 1x10in Speaker - The perfect beginner's bass amp. If you're tired of lugging around heavy gear to small gigs and rehearsals, then try plugging into the MAX 110. Its 20 watts of power drives a heavy-duty, custom-designed, 10" Peavey woofer to generate ample volume and punch. With wide tonal range, Peavey's patented TransTube circuitry gives you a choice of 2 distinct voicings (vintage and modern) for covering a wide range of sounds and music styles. An all-purpose amp perfect for small gigs and rehearsals. Weights about 28 lbs. Click here to buy the Peavey MAX 110 Bass Combo Amplifier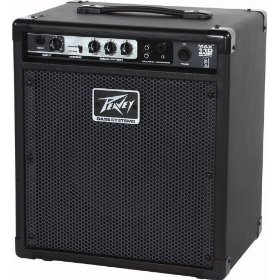 When buying an amplifier for your bass guitar, be sure to keep in mind:
Where you will be using the amplifier. Practicing in your room or small apartment is very different than playing an outdoor concert in a park. Your neighbors will appreciate if you use a small amplifier during your practice sessions. For most beginners, a 20 watt amplifier is sufficient.
How frequently you will move the amplifier. If you play the bass guitar at three different clubs every week, then make sure that you have padding and equipment to move it (such as a wheeled cart). Most amplifiers are damaged during transportation and handling rather than while being used during a concert.
If you are performing at a venue that provides amplifiers, be sure to test them before any public performance. Take a few minutes to connect your bass guitar and make sure that the sound and volume are right. Believe me, you will be glad later that you did - having the bass guitar way too quiet or too loud is an embarassing mistake that you want to avoid.
Ear protection is important, even though it does not look "cool." If you are a member of a rock or heavy metal band, consider using ear protection during practice, even if you don't want to wear it during public performances. Although the bass guitar is not as loud as many other instruments, when connected to a powerful enough amplifier it can cause hearing damage over time.
Further Reading
Where to Find Bass Guitars for Sale Online - Discusses the best online musical instrument stores for bass guitars and other gear.

Beginner and Cheap Bass Guitars - Find out what you need to know before buying an inexpensive bass guitar.

Bass Guitar Resource Guide - Learn more and improve your bass guitar playing ability with online lessons, books, DVDs, CDs, and private lessons.

Beginner Online Bass Guitar Lessons - No Bass Guitar Required - Start learning the bass guitar right now, without an actual bass guitar, by studying music and notes. If you have a bass guitar, you can use these lessons to begin practicing as well.

Guide to Amplifiers - Learn how amplifiers and other sound equipment make the bass guitar sound louder and better!


Peavey Raptor Electric Guitar Package