Bass-Guitar-Music.com
Where to Find Inexpensive Used and Beginner Bass Guitars Online
Buying an inexpensive bass guitar is usually a good idea for first-time buyers and beginners. Thanks to modern design technology, the sound produced by a good inexpensive model is sufficient to develop your ear and playing ability and even perform in public. A first-time buyer or student can find a decent model for under $200. More experienced musicians and bass guitarists who aspire to be performers in rock bands will probably want to consider premium used instruments that are a little more expensive, but even they need not spend over $700 for a top brand.
For suggestions of cheap bass guitars to buy including bass guitars under $100, keep reading. Cheap bass guitars are great for beginners. You can buy a good bass guitar for less than $100, but be sure to read our tips on where not to buy bass guitars as well!
These are some of the best options for buying inexpensive and used bass guitars and accessories online:
Austin Bazaar 43" Metallic Red Electric Bass Guitar - This electric bass is ideal for players of any age and level. Whether you need another bass to add to your collection or just a little something for jam sessions in your garage, this bass is for you. It has 20 frets and a great looking basswood body. An excellent bass guitar for beginners, it sells for less than $100. Click here to buy an Austin Bazaar 43" Metallic Red Electric Bass Guitar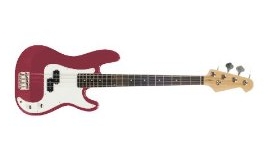 Rogue SX100B Series II Bass Guitar - The Rogue SX100B 4-string electric bass guitar is a great-playing bass featuring a smaller, lighter body that shoulders everywhere will appreciate. It has a bolt-on, 34"-scale maple neck with a rosewood fretboard and dot inlays. Thick, durable, high-gloss finish on the body, neck, and headstock. Chrome hardware with split-coil pickup and tone and volume controls. A fine instrument for beginners and intermediate players with less heft and great playability. Overall, a very good bass for less than $100. Click here to buy a Rogue SX100B Series II Bass Guitar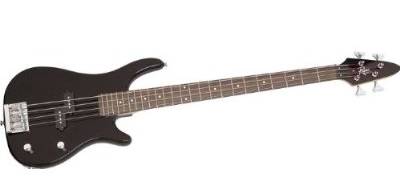 Epiphone EB-0 Electric Bass - The EB-O is an electric bass with a single sidewinder humbucker, chrome hardware, and a mahogany neck. It offers great tone and playability for a very resonable price - under $200. Its bright cherry red color gives it good visibility. Click here to buy an Epiphone EB-0 Electric Bass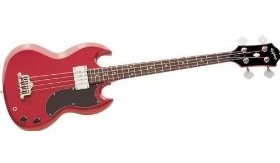 Where Not to Buy Inexpensive and Beginner Bass Guitars Online
Just as important as where to buy your first bass guitar is where not to buy your first bass guitar. A few cautionary notes to first time buyers and beginners:
Beware of buying used instruments from individual sellers. It is generally best to go with a reputable dealer who will stand behind the quality of their products. Individuals may not be able to accurately determine a bass guitar's condition or whether it is suitable for an inexperienced player.
Websites that do not specialize in musical instruments, but have a few for sale anyway, should usually be avoided. Many bass guitars look alike at first, but their subtle differences are important and greatly affect the quality of the sound and the instrument's value. It takes experience to understand the variations in bass guitars and what they mean, and this is usually reflected in the variety and depth of an online store's inventory and selection.
If you are shopping for a used bass guitar on eBay, be especially wary. The pictures may not accurately reflect the quality of the bass guitar as it is today, and even if they do it is difficult to ascertain an instrument's condition from a picture. For example, the strings are a very important element of a bass guitar, but it is extremely hard to tell from a digital photo if they are in good condition.
Further Reading
Where to Find Bass Guitars for Sale Online - Discusses the best online musical instrument stores for bass guitars and other gear.

Beginner and Cheap Bass Guitars - Find out what you need to know before buying an inexpensive bass guitar.

Bass Guitar Resource Guide - Learn more and improve your bass guitar playing ability with online lessons, books, DVDs, CDs, and private lessons.

Beginner Online Bass Guitar Lessons - No Bass Guitar Required - Start learning the bass guitar right now, without an actual bass guitar, by studying music and notes. If you have a bass guitar, you can use these lessons to begin practicing as well.

Guide to Amplifiers - Learn how amplifiers and other sound equipment make the bass guitar sound louder and better!


Austin Bazaar 43" Black Electric Bass Guitar with Guitar Stand and Accessories
On sale now for less than $100 - a great bass under $100!