Bass-Guitar-Music.com

Articles about the Bass Guitar
Bass guitar music is a dynamic field. There are new songs, innovations, bass guitars, and equipment every year. Here are some interesting and helpful articles:


Austin Bazaar 43" Metallic Red Electric Bass Guitar - This electric bass is ideal for players of any age and level. Whether you need another bass to add to your collection or just a little something for jam sessions in your garage, this bass is for you. It has 20 frets and a great looking basswood body. An excellent bass guitar for beginners, it sells for less than $100. Click here to buy an Austin Bazaar 43" Metallic Red Electric Bass Guitar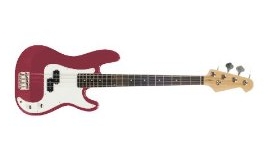 Further Reading
Where to Find Bass Guitars for Sale Online - Discusses the best online musical instrument stores for bass guitars and other gear.

Beginner and Cheap Bass Guitars - Find out what you need to know before buying an inexpensive bass guitar.

Bass Guitar Resource Guide - Learn more and improve your bass guitar playing ability with online lessons, books, DVDs, CDs, and private lessons.

Beginner Online Bass Guitar Lessons - No Bass Guitar Required - Start learning the bass guitar right now, without an actual bass guitar, by studying music and notes. If you have a bass guitar, you can use these lessons to begin practicing as well.

Guide to Amplifiers - Learn how amplifiers and other sound equipment make the bass guitar sound louder and better!


Epiphone EB-0 Combo Pack - Perfect for Beginners