Bass-Guitar-Music.com

Yamaha Bass Guitars
Yamaha designs and manufactures bass guitars and many other types of musical instruments. The company was founded in 1887, and has expanded into several different lines of business. Today, Yamaha is the world's largest manufacturer of musical instruments.
Yamaha bass guitars are relatively new. Yamaha first manufactured a guitar in 1942, but did not produce an electric bass guitar until the 1960s. Several famous bass guitarists have played a Yamaha, including Tony Kanal from No Doubt.
Current Yamaha Bass Guitar Models
There are several models of bass guitars made by Yamaha. Here are some of the more common ones that you will encounter:
BB - This series of bass guitars feature large bodies, bolt-on necks, split-coil pickups, and vintage-style hardware. The bodies are made of alder, while the necks are maple.



TRB - This series of four, five, and six-string bass guitars are made from alder and maple. The necks are made of maple, the Rosewood fingerboards have mother-of-pearl inlays, and the bass guitars typically have a 35-inch scale.



RBX - This series of bass guitars are designed for easy playability. These four-string bass guitars have ergonomically shaped bodies to make playing for long periods of time less stressful. They have rosewood fingerboards, maple necks, and 34-inch scales.



ATT - These four-string bass guitars were designed by Bill Sheehan for rock bass playing. They have alder bodies, maple necks, and partially scalloped maple fingerboards. Some of their more unusual features include a solid brass bridge, two DiMarzio WillPower pickups routed to separate output jacks, and a Hipshot D Tuner.



E - These four-string bass guitars have basswood bodies, maple necks, and rosewood fingerboards. Fairly basic bass guitars with relatively few frills.



Gigmaker - This series offers a package consisting of a four-string bass guitar, amplifiers, a strap, cable, and other accessories. A good choice for beginners, as it includes most of the necessary equipment.



Further Reading
Where to Find Bass Guitars for Sale Online - Discusses the best online musical instrument stores for bass guitars and other gear.

Beginner and Cheap Bass Guitars - Find out what you need to know before buying an inexpensive bass guitar.

Bass Guitar Resource Guide - Learn more and improve your bass guitar playing ability with online lessons, books, DVDs, CDs, and private lessons.

Beginner Online Bass Guitar Lessons - No Bass Guitar Required - Start learning the bass guitar right now, without an actual bass guitar, by studying music and notes. If you have a bass guitar, you can use these lessons to begin practicing as well.

Guide to Amplifiers - Learn how amplifiers and other sound equipment make the bass guitar sound louder and better!


Hal Leonard Bass Method - The Complete Edition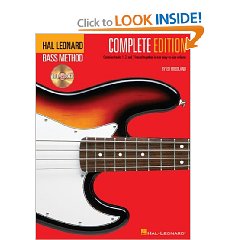 Learn to play the bass guitar with the help of this book. This is one of the best books that I have found for learning to play the bass guitar.

Click here to order