Bass-Guitar-Music.com
Bass Guitar Lessons for Beginners
Starting to play the bass guitar can be overwhelming. That is why this page breaks down the process in easy to follow step-by-step lessons. If you are patient and do not mind practicing, then you should be able to make good progress within a few weeks.
Be sure to visit this site frequently. I would recommend going through each lesson at least four or five times in order to master the principles. If you build the core skills, then you will be able to progress quicker later on. If you neglect the basics, you will eventually have to study them again, and by then you will probably also have to unlearn some bad habits.
A few tips on how to get the most out of your practice sessions:
Eliminate distractions. Set aside a certain amount of time (at least 15 minutes) and focus on a lesson. Turn off your cell phone and close your e-mail and instant messaging. Set your status as "practicing the bass guitar" and catch up with your friends later.
Practice a lot. During an interview, The Beatles once said that a band should practice for 100 hours for every hour of performing. I think they were optimistic. Unless you are a naturally talented bass guitar player like Paul McCartney, you will probably need about 300 hours of practice before you can even think about performing in public. But do not dispair, if you are diligent and keep working, you will be ready to perform in a band before you know it.
Be honest about your strengths and weaknesses. Some people will be able to pick up on things immediately, while others will need to go over them ten times until they learn them. Most beginning bass guitar players are better at certain aspects of music than others. For example, someone may develop excellent technique and hand positions after a few lessons, but have horrible rhythm. If this is the case, then don't be afraid to go through the rhythm lesson 30 or 40 times. The only thing that matters is whether you eventually master the skills. This is the advantage of online lessons - no one will know how long it takes you to learn something. They will only see the results.
Lessons for Beginners
Ready to get started? Even if you do not have a bass guitar, you can still start practicing some fundamental skills. Here are the bass guitar lessons for beginners:

Austin Bazaar 43" Metallic Red Electric Bass Guitar - This electric bass is ideal for players of any age and level. Whether you need another bass to add to your collection or just a little something for jam sessions in your garage, this bass is for you. It has 20 frets and a great looking basswood body. An excellent bass guitar for beginners, it sells for less than $100. Click here to buy an Austin Bazaar 43" Metallic Red Electric Bass Guitar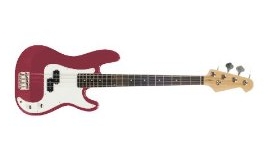 Further Reading
Where to Find Bass Guitars for Sale Online - Discusses the best online musical instrument stores for bass guitars and other gear.

Beginner and Cheap Bass Guitars - Find out what you need to know before buying an inexpensive bass guitar.

Bass Guitar Resource Guide - Learn more and improve your bass guitar playing ability with online lessons, books, DVDs, CDs, and private lessons.

Beginner Online Bass Guitar Lessons - No Bass Guitar Required - Start learning the bass guitar right now, without an actual bass guitar, by studying music and notes. If you have a bass guitar, you can use these lessons to begin practicing as well.

Guide to Amplifiers - Learn how amplifiers and other sound equipment make the bass guitar sound louder and better!


Hal Leonard Bass Method - The Complete Edition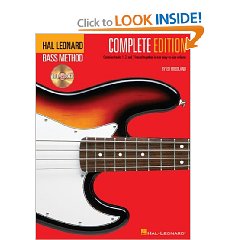 Learn to play the bass guitar with the help of this book. This is one of the best books that I have found for learning to play the bass guitar.

Click here to order