Bass-Guitar-Music.com
The Best Bass Guitar Books and DVDs
Books and DVDs are excellent learning materials, especially for beginners. There are quite a few instructional books and DVDs out there, but many of them are hard to follow. Choosing the right materials for your level can be hard, but this page provides some guidance. Once you read some of these books or watch the DVDs, you will learn faster and get better at playing the bass guitar.
Books and DVDs can be great for learning to play the bass guitar but remember:
Only use learning materials that are suited for a player of your skill level, not the level that you would like to be.
Reading books and watching DVDs is not a substitute for practicing - they should always be used to supplement your practice sessions.
The bass guitar is used in many different types of music. If you plan to join a rock band, you should use learning materials designed for rock and roll bass guitarists, not blues, jazz, or another style.
Every bass guitarist has a slightly different style. Even famous successful bass guitarits do not always agree on playing technique. They do agree on the basics, though, so books and DVDs can be very useful to a beginner.
These are some of the best books and DVDs for learning to play the bass guitar:
Bass Guitar for Dummies
- Don't let its name fool you - this book is certainly not for dummies! With a strong emphasis on notes, scales, music theory, and style, this book is better for slightly more advanced players than beginners. Once you have picked up a bass guitar and played several dozen times, then you should read this book. It will give you a solid foundation in music and help your bass guitar playing progress. Click here to buy "Bass Guitar for Dummies"
Hal Leonard Bass Method
- One of the best ways to begin learning to play the bass guitar. If you are an absolute beginner, these are the books for you. The step by step teaching method slowly introduces you to playing each string, and the focus is more on playing than theory. Click here to buy "Hal Leonard Bass Method - The Complete Edition"
101 Bass Tips: Stuff All the Pros Know and Use
- A great book for beginners as well as intermediate bass guitarists. The tips are straightforward and useful. The topics covered include technique, improving your ear, performing, equipment, and more. Click here to buy "101 Bass Tips: Stuff All the Pros Know and Use"
Bass Guitar Lessons: Beginning Bass
- In this DVD, well-known bass guitarist Tony Saunders teaches beginners how to play the four-string and five-string bass guitars. The course covers warm up exercises, technique, and all the fundamentals. Click here to buy "Bass Guitar Lessons: Beginning Bass"
Where Not to Buy Bass Guitar Books and DVDs
Just as important as what books and DVDs to buy is where not to buy learning materials. A few cautionary notes to beginners:
Just like buying a used bass guitar, beware of buying used books and DVDs from individual sellers. Individuals are more likely to be cleaning out their shelves than parting with a valuable piece of learning material.
As a general rule, do not buy books or DVDs at concerts. Even if a band has a great bass guitarist, their book is more likely to be marketing for their band than a good step-by-step learning tool. Also, experienced musicians in advanced stages of their performance career may not remember the basic lessons that they learned years ago. It is better to stick with a tested course used recently by many beginning bass guitar players.
Bookstores and websites that do not have large music departments, but happen to have a few books and DVDs for sale anyway, should usually be avoided. Many bass guitar learning materials look alike at first, but as you progress, you will realize the importance of learning and practicing the proper techniques early on.
Austin Bazaar 43" Metallic Red Electric Bass Guitar - This electric bass is ideal for players of any age and level. Whether you need another bass to add to your collection or just a little something for jam sessions in your garage, this bass is for you. It has 20 frets and a great looking basswood body. An excellent bass guitar for beginners, it sells for less than $100. Click here to buy an Austin Bazaar 43" Metallic Red Electric Bass Guitar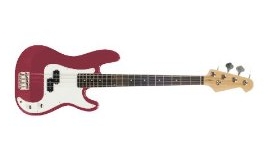 Further Reading
Where to Find Bass Guitars for Sale Online - Discusses the best online musical instrument stores for bass guitars and other gear.

Beginner and Cheap Bass Guitars - Find out what you need to know before buying an inexpensive bass guitar.

Bass Guitar Resource Guide - Learn more and improve your bass guitar playing ability with online lessons, books, DVDs, CDs, and private lessons.

Beginner Online Bass Guitar Lessons - No Bass Guitar Required - Start learning the bass guitar right now, without an actual bass guitar, by studying music and notes. If you have a bass guitar, you can use these lessons to begin practicing as well.

Guide to Amplifiers - Learn how amplifiers and other sound equipment make the bass guitar sound louder and better!


Hal Leonard Bass Method - The Complete Edition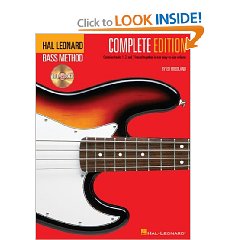 Learn to play the bass guitar with the help of this book. This is one of the best books that I have found for learning to play the bass guitar.

Click here to order