Bass-Guitar-Music.com
Intermediate Lessons: Solos
Playing a solo is one of the ultimate achievements for a bass guitarist. When you are playing a solo, your fellow band members and everyone in the audience will be watching and listening. Do not be afraid of a bass guitar solo. Just remember the basics, relax, and energetically play the notes that you have rehearsed hunderds of times.
If someone in your band suggests a bass guitar solo, you should take this as a compliment. Bass guitar solos are relatively rare, and your fellow band members will probably only suggest one if they have faith in your playing ability.
A solo is your time to shine. Do not be afraid of changing the tempo of the song or playing notes in a different key. Whatever you decide to do, though, be sure to practice it many times. A solo is not improvisation, it is simply a time when the attention will shift to the bass guitar.
While it is best to be original, you can get ideas from other bass guitarists, especially when you are still an intermediate level player. Listen to as many songs with bass guitar solos as you can. I would recommend listening to the bass guitar solos in songs by The Who, Metallica, and Black Sabbath.
During some bass guitar solos, the bass guitarist is accompanied by the drums. If you are going to be accompanied by a drummer during your solo, then you should practice with the drummer several dozen times prior to any performance.
If you are not a member of a band yet, then you can still start practicing for a solo. Develop at least one solo that you can comfortably perform. This should impress the rest of the band during an audition. Remember that the tempo and rhythm are just as important as the notes that you play. A solo gives a bass guitarist more freedom, as they do not have to conform to the tempo of the rest of the band.
The key points of this lesson are:
Solos are different than how a bass guitarist usually plays in a band. The bass guitarist is the center of attention during a solo, while the rest of the time the bass guitar notes usually just blend into the background or form the base of a song.
Even if you are not in a band, develop one good solo that you can perform during auditions.
Austin Bazaar 43" Metallic Red Electric Bass Guitar - This electric bass is ideal for players of any age and level. Whether you need another bass to add to your collection or just a little something for jam sessions in your garage, this bass is for you. It has 20 frets and a great looking basswood body. An excellent bass guitar for beginners, it sells for less than $100. Click here to buy an Austin Bazaar 43" Metallic Red Electric Bass Guitar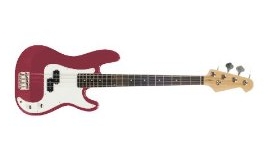 Further Reading
Where to Find Bass Guitars for Sale Online - Discusses the best online musical instrument stores for bass guitars and other gear.

Beginner and Cheap Bass Guitars - Find out what you need to know before buying an inexpensive bass guitar.

Bass Guitar Resource Guide - Learn more and improve your bass guitar playing ability with online lessons, books, DVDs, CDs, and private lessons.

Beginner Online Bass Guitar Lessons - No Bass Guitar Required - Start learning the bass guitar right now, without an actual bass guitar, by studying music and notes. If you have a bass guitar, you can use these lessons to begin practicing as well.

Guide to Amplifiers - Learn how amplifiers and other sound equipment make the bass guitar sound louder and better!


Hal Leonard Bass Method - The Complete Edition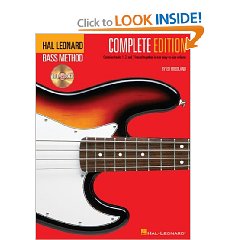 Learn to play the bass guitar with the help of this book. This is one of the best books that I have found for learning to play the bass guitar.

Click here to order